FREQUENTLY ASKED QUESTIONS (FAQ)
What is the rewards program?
We are excited to offer a Reward Program for our loyal customers. Based on your orders & activities, your account collects points towards discounts to go towards future online orders on the Thomas Farms range.
When you earn the below points, you are eligible for these discounts:
300TF points = 5% discount
550TF points = 10% discount
1000TF points = 20% discount
You can choose to use the discount when you like. If you'd prefer to use 5% straight away, you may. You can otherwise keep collecting points to activate 10% or 20% off.
The maximum discount at any one time is 20%. One discount or promotional code per order.
How are points earned?
Points can be collected via: Sharing a referral link to a friend. If they order via that link, you both receive a $10 Thomas Farms gift card for online orders.
Placing an order earns you 1TF point per dollar spent.
Leaving a review earns 50TF points
Subscribe to the Thomas Farms e-newsletter for 250TF points. We like to keep in touch with Customers to offer the best in-season products and discounts. You can subscribe when logged into your account via the Rewards Pop-Up window.
Following Thomas Farms on Instagram earns you 50TF points. Do this through the Rewards Pop-Up window so we know you have 'followed' us.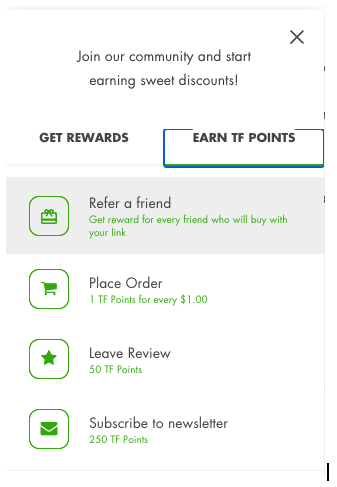 How to redeem your points for discounts
When visiting the website, ensure you are logged into your account to see your current rewards and discounts.
When you click on the Thomas Farms rewards tab, you see a new pop-up window, which shows the available rewards.
In the pop-up window, you can see the 5% off reward has a "copy" button. This means you have enough points to claim this code on your account.
When you click "copy" it will copy the code to your computer.
Then, at the Checkout page, you simply paste the code in the 'Gift Card or Discount Code' field, click 'apply here' and your discount will be applied to your order.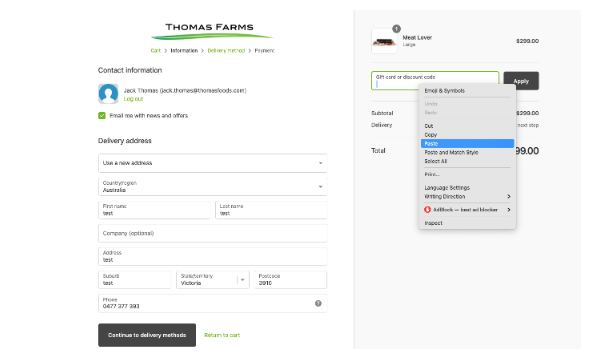 More information on the TF Rewards Program
How many times can a discount be applied?
Each discount code is valid for one use only.
Can I give my discounts to someone else?
Discount codes are only valid for the account that has earnt them.
Can I buy a gift voucher with the rewards?
Yes. Gift Vouchers are available for $50 - $500.
Can I use the discount codes at the Retail Stores?
No, this option is not available.
Can I change my order?
If your order hasn't been packed and fulfilled when you request the change, we will endeavour to make changes for you to the best of our ability.
To enquire about changes contact us directly on 1300 846 627 during business hours, or for critical after-hour requests, 0427 486 581.
What happens if I have specific food allergies?
For specific allergen information or concerns, please call 1300 846 627 during business hours.
Strict hygiene and food safety protocols are enforced across all production sites. Nutrition Information Panels (NIPs) are available on all required products upon delivery and can be shared prior to orders being placed. Items that have not been through a value-add process, such as plain steaks or lamb chops, do not require NIP labels.
How is my order packed?
All of our meat is either cryovaced or MAP packed for easy storage and to promote extra shelf life. This makes our products easy to freeze, defrost and store in your fridge! Seafood products are all frozen (except when specified).
All orders are then packed in food-specific cardboard boxes that are 100% curbside recyclable, with reusable ice packs to ensure your order stays cold and fresh for up to five hours!
There is a problem with my order (quality/food safety/missing items) what do I do?
For any order questions or concerns, please get in touch via
Contact Us
If the concern is urgent and requires immediate attention, please call 0427 486 581.
Where do you deliver?
Thomas Farms proudly services a broad area across metropolitan, regional and rural South Australia and Victoria. We deliver to over 200 postcodes per state, with regional and rural areas including the Barossa, Yorke Peninsula, Clare Valley, Bendigo, and Mornington Peninsula - to name a few. Despite our best efforts, we cannot deliver everywhere.
To ensure we deliver to your address, please check here the Postcode Tool on the Delivery Page.
How long will it take for my order to be processed & delivered?
Between placing your order and delivery, it is a minimum of two business days in South Australia or three business days in Victoria. Orders can otherwise be scheduled for delivery up to three months in advance. Delivery is then made between 10 am and 5 pm on your selected delivery date, or available for collection at 156 Churchill Road North, Cavan, South Australia.
What happens if I'm not home when my delivery arrives?
Your order will be left in a safe place. If you would like it left somewhere specific, please advise in the notes section of your order. This will be passed on to our trusted delivery partner.
Can I find out what time my order will arrive?
Deliveries are made between 10 am and 5 pm on your selected delivery date. If you need to specifically know the time, please contact 0427 486 581.
Please note: you cannot request a specific time or have the allocated time changed. However, we can advise you more specifically if and when you need to know. All of our online orders are delivered by trusted delivery partners, both of whom have their own branded vehicles. For any delivery questions or feedback, please contact us directly.
Can I get delivery to a business or family member's address?
Deliveries can be made to any business or personal address, as long as we deliver to that area. Orders have an invoicing address and a shipping address. Please ensure the shipping address is reflective of where you would like your order to be delivered.
For business addresses, please note the opening hours in the notes section of your order and we will endeavour to ensure delivery is made during those hours. If you are sending your order as a gift, only the registered email and/or mobile number for the account that placed the order will receive updates.
Do you have Retail stores near me?
Thomas Farms proudly has four retail stores in South Australia.
Our direct-to-consumer butcher is located at156 Churchill Road, Cavan, South Australia, 5064. We have Thomas Farms retail stores located in South Australia - at Castle Plaza, Colonnades and West Lakes Shopping Centres. These stores are currently undergoing a rebrand. Please note, our online and retail stores are currently run separately. Please place any enquiries or orders regarding our online store via the website.
Can I work at Thomas Farms?
Thomas Farms is proudly Australian and part of a 100% family-owned business. It is a privilege to be able to provide so many Australians meat and seafood, and in the process keeping over 2,000 in Australia employed.
If you are interested in joining the team, please visit our parent company website: Thomas Farms Careers for available opportunities or to register your interest. Thank you for your interest in working with us.
Sponsorship & Donation requests
Sponsorships and donations are managed by our parent company. TFI, at its core, is a business driven by family values. We care about the people we work with, the animals that live on our farms, and the communities we live and work in. As part of our mission to feed families globally, TFI considers it our privilege to be able to give back to those in the community that need it the most.
To apply for sponsorship, please visit: Thomas Farms Community & Corporate Responsibility
Use left/right arrows to navigate the slideshow or swipe left/right if using a mobile device